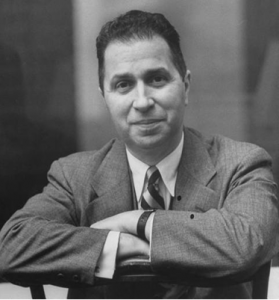 Dr. Mortimer J. Adler
———————————————————————
Born in New York City, The United States
Mortimer Jerome Adler was an American educator, philosopher, and popular author. As a philosopher he worked with Aristotelian and Thomistic thought. He lived for the longest stretches in New York City, Chicago, San Francisco, and San Mateo. He worked for Columbia University, the University of Chicago, Encyclopædia Britannica, and Adler's own Institute for Philosophical Research.
Unlike many of my contemporaries, I never write books for my fellow professors to read. I have no interest in the academic audience at all. I'm interested in Joe Doakes. A general audience can read any book I write—and they do.
Source: Wikipedia
————————————-
——————–
For those of you who would like to find out more about Dr. Adler's amazing contributions to the fields of education and the American Religious idea you will want to look at this article which features a post from Tim Lacy of Loyola University. Lacy is co-founder of the Society for US Intellectual History (S-USIH), including the award-winning USIH Blog.  Lacy is also the author of the wonderful new work, The Dream of a Democratic Culture: Mortimer J. Adler and the Great Books Idea (Palgrave Studies in Cultural and Intellectual History), which will be released in November.
——————————
How to Think About God: A Guide for the 20th Century Pagan
The Difference of Man and the Difference Man Makes
The Intellect: Mind Over Matter
———————- ♦ ♦ ♦ ♦ ———————-
The makers of Encyclopaedia Britannica bring you the Great Books of the Western World. Comprising 60 volumes containing 517 works written by 130 authors, these texts capture the major ideas, stories, and discoveries that shaped Western culture. To find out more about this series see the YouTube below, and a hotlink to Logos' web page for the series can be found below the screen. For those of you who would like to learn more about this series see the video presentation below for a fifty minute presentation featuring David Denby titled What Are the Great Books of Western Literature?
——————————————————-
---
==> To The Logos Web Page <==
—————————————