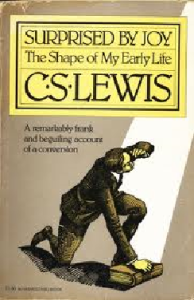 If you would like to visit our Joy Davidman page, Lewis' wife for whom Lewis wrote this book– click ==> here.
To accompany our study of Lewis' Surprised by Joy, I've embedded the first in a series of 7 You Tube videos below. If you're interested in viewing more of the series they have been bundled in a playlist, so access to the others should be accessible if you so desire to watch them.
To access the remaining You Tubes just click on the You Tube icon in the lower right corner of the picture frame and you will be carried to the playlist where you can access the rest of the presentations.
The C.S.Lewis Foundation's Study Guide to => Surprised by Joy
——————-