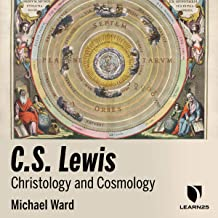 ♣
♦ ———- ♦
♥ ——————– ♥
An → Amazon ← Link
♠
————————————————————————————————————
Peek into the mesmerizing imagination of C. S. Lewis with the world's leading authority on the beloved author.
With more than 100 million copies printed in 47 languages, The Chronicles of Narnia is one of the best-selling book series ever. Its enduring success is no accident, but rather the result of C.S. Lewis's extraordinary imaginative skill.
Few understand the full cosmological and theological depths of Lewis's world. In Christology, Cosmology, and C. S. Lewis, you will discover new dimensions that will enrich your enjoyment of these classic tales. Your presenter is Oxford University's Dr. Michael Ward, an award-winning author whom The Times called "the foremost living Lewis scholar." Dr. Ward's 12 lectures reveal the secret of The Chronicles: a creative plan that is breathtaking in its ingenuity, humility, and spiritual profundity.
A literary scholar who worked at Oxford and Cambridge, Lewis loved medieval literature that "at first looks planless, though all is planned." In Narnia, he imitates this example, structuring the series to embody the seven planets of the medieval cosmos. Believing in the importance of hiddenness in literature and theology, Lewis kept secret his imaginative blueprint. Once you unearth the mystery of Narnia, you will find new treasures buried in these magical tales.
Looking at Lewis's works with a fresh perspective, you will find their Christian wisdom and brilliant storytelling more intriguing than ever before. Let the creative genius of C. S. Lewis inspire you today.