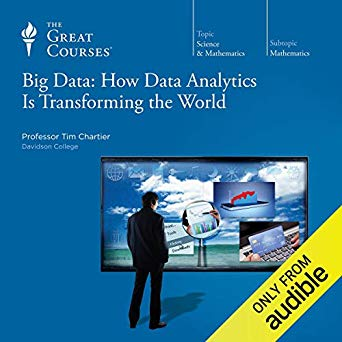 ==> An Amazon Link <==
——————————–
In our age of accelerating progress in so many fields, it's easy to lose sight of the underlying innovation that makes the data analytics revolution possible. These 24 (30 minute) lectures introduce you to the key concepts, methods, and accomplishments of this versatile approach to problem solving. You need no expertise in mathematics to follow this exciting story.
Tim Chartier, professor of mathematics and computer science, explains the basic computational techniques used in data analytics, but his focus is on how these ideas are applied and the amazing results they achieve. His case histories make these lectures both accessible and entertaining. He takes you behind the scenes to review many examples of data analysis in action, including the pitfalls and potential of Internet traffic analysis, algorithms that aim to predict what customers want, some of the best defenses for keeping your personal data private, how methods for filling out March Madness game brackets can be applied to other problems, and much more.
Professor Chartier is a champion of the fun, challenge, and breathtaking power of mathematics – qualities that are accessible with data analytics. And with his enjoyable lectures, you'll discover concepts and tools that are transforming the world – and that you can use to transform your own life. It's like watching a thrilling spectator sport that invites you to suit up and join the action!
PLEASE NOTE: When you purchase this title, the accompanying PDF will be available in your Audible Library along with the audio.